To celebrate International Women's Day, we spoke with Annette Ainsworth, the Account Director for City FM (UK). Annette took the time to tell us how her career has gone from waiting tables at college to managing restaurants, progressing in human resources, leading people through change, and finally becoming the Account Director for City FM (UK). She also talks about the inspirational women who encouraged her and shares her advice with young women. 
Annette grew up on a council estate where going to college and university was not the norm, but she had a desire to better herself. 
"A job at the checkout at a local supermarket was lined up for me on leaving school, and the expectations were to have a local job get married and have children".
However, Annette's career trajectory took a different path when a family friend, an ex-teacher, pointed out that her natural, inquisitive nature would be suited to further education and encouraged her to push herself. 
Annette did just that and got the qualifications to get into college, she didn't have a defined career path but associated bettering herself with becoming a lawyer or an accountant. However, not knowing which path to choose, she studied Business and Finance first and then went down a legal route. In the meantime, she also began working to help with the costs of studying, catching what she describes as "the hospitality bug". 
Her first job was working waiting tables for the Restaurant Group, resulting in her first contact with City Refrigeration - not knowing that she would come across City in a different walk of life in the future! After graduating, Annette began her career managing restaurants. In 1995, there was new legislation around health and safety, food hygiene, and employment law. The change in legislation proved to be a catalyst for her career progression as the Restaurant Group recognised that her background made her the ideal person to help understand the new requirements.
"There was a recognition from people in the business that I had a background which meant that I could translate what all this stuff coming down would mean operationally. So, I went from being a manager, doing new site openings, to more head office roles looking at HR and policy."
Annette grew her career at the Restaurant Group. Every year was a year of change and growth, allowing her to hone her skills in consultation and change management. During her time with the Restaurant Group, she achieved several milestones, achieving people first accreditation across the leisure division, introducing service changes to meet business needs, growing the Frankie and Benny's concept and people pipeline from four stores, managing a programme of conversions, and acquiring new brands for business growth. The business grew and changed, and Annette was part of a management buyout and became the HR Director for the Deep Pan Pizza estate.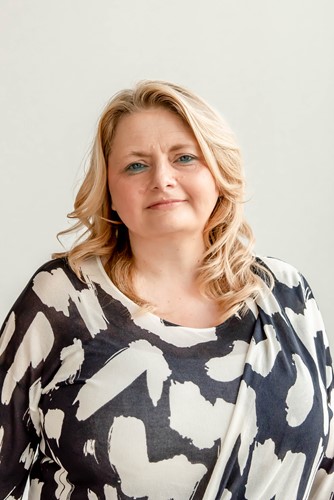 After 13 years of working in the hospitality sector, Annette reached a point in her career where she decided to move industry to experience something new. Knowing that she wanted to continue to have the balance of working in both operations and people, she decided to move into consultancy. Consultancy with several businesses allowed Annette to build her business knowledge and round out her skillset. It also allowed her time to find her next permanent role. 
Although she enjoyed her time consulting, Annette found that she was missing being part of a team and being able to lead within an organisation. She needed to find an industry that would suit her since most industries felt dull after the 24/7 nature of restaurants and airports. Annette's search led her to join City in August 2011, working in the retail division. Initially only signing a three-month contract as a Divisional People Partner, Annette took advantage of internal moves to be appointed Head of People (Retail). Since taking on that role, the scope has expanded, firstly taking on the ALS side of the business and then into a more senior position attending the board meetings for the contract and leading transformation. 
Annette's knowledge of legislation was called upon once again when the COVID-19 Pandemic hit. 
"As a member of the Senior People Team at points of change, you become a figurehead, but COVID was unchartered territory to navigate. It would be fair to say through the circumstances we were in, my leadership grew."
Since COVID the retail environment and customer trading environment has continued to evolve. We have seen changes in ownership and strategy with ASDA, and Annette has led the business through significant transformation.
Last year when a leadership opportunity arose on the Asda contract several people encouraged Annette to take the next step, including Yenna Levack-Venn, Senior Director for ASDA. Annette took the leap and became the Account Director for City FM (UK) in April 2022. 
"Taking on this role has been an adjustment from being the operational HR person partnering the business to being a commercial, operational business leader. In reality, the shift has just been about putting all the jobs I've done before together."
The first few months in the role weren't without challenges. However, Annette is now in a position where she is looking ahead to the future and developing the contract further. 
"The last 18 months have been tough, and the teams have been amazing. In 2023 I want to make sure the teams are recognised for their contribution, and they understand the role they play and how they contribute to the longer-term business developments."
"I will also be working closely with the customer as they progress with their growth strategy and ensure we have a strong partnership to build on." 
Advice
Be confident in the skills you have developed, and don't limit your future choices. I could have progressed as a senior leader in the hospitality industry because of my confidence in my knowledge having worked my way up in the business. However, it took me a little longer to have the belief that I could lead an FM business without a technical background. Now I have learned I can move across industries and I have opened my career opportunities. 
In the FM industry, there is a gender imbalance, the industry works to address this at grass roots. However, my experience is that we can also attract leaders to the industry. I have found this to be an industry I am able to lead and make my voice heard. My advice to any woman in facilities management is to be confident in your skills and believe in your credibility to be here. You will achieve the right results.
For those working outside of facilities management, don't place restrictions on your growth, you don't need to have come from an FM background to lead a facilities management team.